"Kickstart your morning with MOJU... it's got everything you need to support immune and digestive health"

"The tastiest way to encourage a healthier, more diverse gut microbiome"

"The ultimate addition to your morning routine, brimming with the world's most supercharged prebiotic and plant fibres"

"You'll quickly become addicted to this punchy little shot as part of your morning routine"

"It will give you a plant-powered boost to your digestive health and immune system, that's also low in sugar. What a shot!"
IT ONLY TAKES A SECOND TO STAY IN THE GAME

Wake
Fire up your day with the ultimate morning ritual to support your energy, immunity and gut health.

Shake
Our powerful ingredients are fresh pressed straight from the source with no added sugars, preservatives (or anything at all).

Boom
You're ready to smash it.
PACKS A PUNCH 👊 NO ADDED SUGAR 🚫 PLANT POWERED 🌱 REAL INGREDIENTS 🧑‍🌾 STRAIGHT FROM THE SOURCE 🌍
WHY WE DO IT
"WE STARTED MOJU TO HELP PEOPLE USE NATURE TO POWER THEIR ACTIVE AND FAST-PACED LIVES, WITHOUT HAVING TO RELY ON POPPING PILLS OR OVERLOADING ON SUGAR AND CAFFEINE."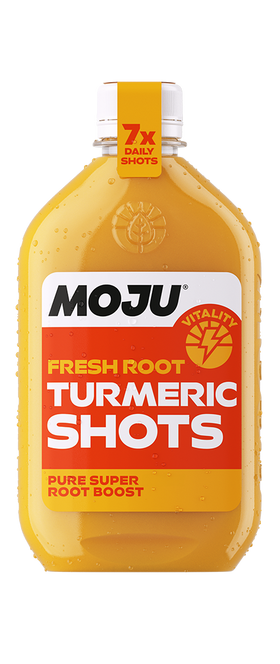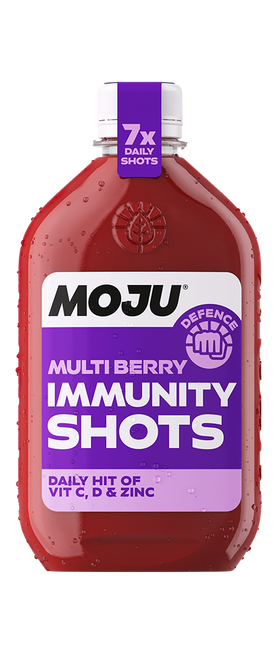 SUBSCRIBE & SAVE
Get 15% off every order.
Plus, enjoy regular subscriber perks.

Easily swap products, skip orders, or cancel your subscription at any time.

Make changes in your customer portal or text the MOJU SMS Shotline.
FAQs
In the office we drink multiple shots a day, depending on how we are feeling, but it completely depends on the person - if you have any queries or questions about introducing anything new to your routine please consult your doctor. Each of our dosing bottles provide 7x Daily Shots Per Bottle (daily = serving suggestion).
Nope. We don't use any additives or preservatives. Our shots don't contain any colours or flavourings, nature does all the hard work for us, and better than any human in a lab could do. We never add sugar. Our shots only contain the natural sugars found in plants.
We're so sure you'll love your MOJU, we'll give you your money back if you don't. Simply email us within 30 days of placing your order and we'll put things right. Only valid once per customer on 4x packs of dosing bottles. Maximum refund £27.80.