Black friday, done differently
HELP US RAISE £10,000
(AND YOU'LL GET 25% OFF)
As Black Friday sales go, this one's a proper winner.
Play the game below and not only will you bag yourself a sweet saving, you'll be doing some good in the world too.
For every point you score, we'll donate £0.25 to The Outrunners towards our £10,000 goal – with your quick-fire skills helping young Londoners build the knowledge and confidence to lead fuller, fitter lives.
And at the end? You'll get your 25% discount on your next MOJU order. Boom.
Get those fingers fired up cos there's only one chance to win - so make sure you give it your MO'st 💪🏼
Press an arrow key or space to start
Press the button below to start
Our
donation:
£0
Your
score:
0
About the outrunners
As big advocates of grassroots vibes and active lives, we're all about The Outrunners here. This awesome organisation is doing incredible things for the lives of young Londoners, so we're stoked to be able to partner with them on their mission. Much more than a charity partner, The Outrunners means being part of a proper community that does brilliant things to improve the opportunities and outlook of young Londoners.
As well as their efforts to help young people build the future they want through mentoring, career events and work experience, from their Hackney HQ The Outrunners see running clubs as a great opportunity to get active, have fun and thrive. With our belief that everyone deserves to feel the power of nature, we couldn't agree more – and thanks to you, we've been able to help give this cause some much-needed firepower.
With your help, we can keep bringing plenty of positivity and movement to young people of London.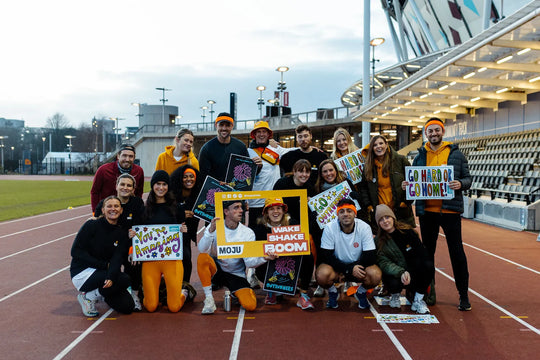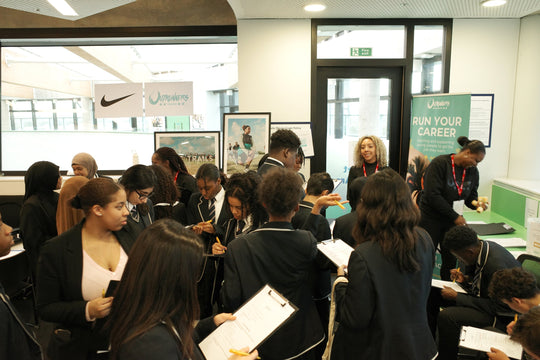 TERMS & CONDITIONS
See terms and conditions of our offer and donations below.
1. THE PROMOTER
The Promoter of this campaign is MOJU Ltd of 22-24 Corsham Street, London N1 6DR.
2. THE PROMOTION
The promotion allows you to play a game to unlock a 25% off discount code on www.mojudrinks.com and accumulate a donation from MOJU to The Outrunners on your behalf.
MOJU will donate £0.25 per point earned on each customer's first attempt at the game to The Outrunners.
Donations will only be made after your 25% voucher code has been used. Donations accumulated by customers who do not place an order using the voucher code will not be made.
3. ELIGIBILITY
This promotion is only open to customers who are residents of the United Kingdom and Republic of Ireland aged 18 or over, excluding employees of the Promoter, their families, agents or anyone else professionally connected with this promotion.
The offer is valid on first time and returning orders, and on one-off and subscription orders.
This offer cannot be used in conjunction with any other promotion or discount.
Please note, certain browser extensions or network settings may prevent scores from being correctly registered.
4. PURCHASE AND CLAIM PERIOD
The discount code must be redeemed and used before 29th November 2023. Please do not attempt to use this discount code once expired.
5. TO CLAIM
Play the game on mojudrinks.com/pages/snake to accumulate as many points as possible.
Upon completion of the game, enter your email to receive a 25% discount code.
After placing an order with the 25% discount code, MOJU will donate £0.25 per point earned during your first attempt of the game to The Outrunners on your behalf.
The game can be played multiple times per person, but only the first result will be saved and used for donation and scoring purposes.
6. FULL TERMS
The Promoter may, in its sole discretion, invalidate redemptions deemed to be in breach of these Terms, contrary to the spirit of the Promotion or otherwise bring the Promotion into disrepute.

The Promoter reserves the right to verify the eligibility of claimants. The Promoter may require such information as it considers reasonably necessary for this purpose and a claim may be withheld unless and until the Promoter is satisfied with the verification.
The Promoter accepts no responsibility for lost, delayed, incorrectly submitted, illegible, incomplete or misdirected claims or for technical failures or otherwise. Proof of sending is not proof of receipt.
By entering the Promotion claimants agree to be bound by these Terms and by the decisions of the Promoter, which are final in all matters relating to the Promotion. No correspondence will be entered into.
The Promoter reserves the right to vary these Terms or to terminate or cancel the Promotion and/or a reward at any time without notice. For instance, if for any reason any aspect of this Promotion is not capable of running as planned, including by reason of infection by computer virus, network failure, bugs, tampering, unauthorised intervention, fraud, technical failures or any cause beyond the control of the Promoter which corrupts or affects the administration, security, fairness, integrity or proper conduct of this promotion, the Promoter may in its sole discretion terminate, modify or suspend the Promotion, or invalidate any affected claims. administration, security, fairness, integrity or proper conduct of this promotion, the Promoter may in its sole discretion terminate, modify or suspend the Promotion, or invalidate any affected claims.
Bulk claims made from trade, consumer groups or third parties will not be accepted. Incomplete or illegible claims, by or via third parties or syndicates, claims by macros or other automated means (including systems which can be programmed to enter), and claims which do not satisfy the requirements of these Terms in full will be invalidated.
In entering into this Promotion, entrants do so at their sole risk. The Promoter and its associated agencies and companies will not be liable for any loss (including, without limitation, indirect, special or consequential loss or loss of profits), expense or damage which is suffered or sustained (whether or not arising from any person's negligence) in connection with this Promotion or requesting or receiving the claim, except for any liability which cannot be excluded by law (including personal injury, death and fraud) in which case that liability is limited to the minimum allowable by law. This Promotion does not affect the statutory rights of the claimant. excluded by law (including personal injury, death and fraud) in which case that liability is limited to the minimum allowable by law. This Promotion does not affect the statutory rights of the claimant.
By entering the Promotion, all entrants consent to the transfer of their personal data to the Promoter and its agencies, and the holding and processing of such data by the Promoter and its agencies, and for the purposes of the administration of this Promotion. If you do not wish your personal data to be used for this purpose, you should not enter the Promotion.
Aside from the use of entry data for the performance of this Promotion, the Promoter will not use personal data for any other purpose without the express consent of the claimant. See https://mojudrinks.com/pages/terms-conditions-privacy-policy/ for our full privacy policy.
If any provisions of these Terms are judged to be invalid, illegal or unenforceable, this shall not affect or impact the continuation in full force and affect the remainder of the provisions.
Entry to the Promotion is deemed acceptance of these Terms.
This Promotion and all issues arising out of it shall be governed in accordance with English Law and are subject to the exclusive jurisdiction of the English courts
Click here to see full site terms and conditions.